Why to attend Moscow MICE Forum?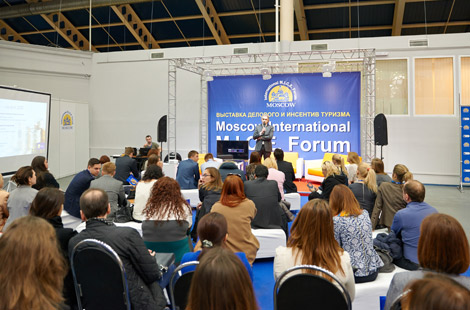 MICE business from Russia is already a multi-million segment, estimated to be worth more than €500 million per year. In it's early years it did not following traditional mechanisms and developed in its own style. The Russian Meetings and Incentive sector is now becoming highly professional with a number of companies specialising only in the MICE sector. The number of professional Corporate Buyers is also increasing and all receive personal invitations to the Moscow MICE Forum.

Moscow MICE Forum is organised for MICE Professionals by Professionals. We fully understand the specialised nature of this segment of the market and ensure a high level for our International specialists and the Russian buyers.

As the Russian MICE market is still developing we are deliberately keeping the participation charges low to enable our International participants to make suitable returns on their investment.

To improve the quality of the event and to ensure private meetings Moscow MICE Forum provides standard 6 sq. m stands equipped with 1 table, 4 chairs, lighting, fascia panel and electricity. The professionally produced event catalogue provides full description about each company's services and contact details.


We work all year round to increase our already extensive data base ensuring a high level of visitors. All leading players in the Russian MICE sector are invited and attend each year. These will include:
Established corporate buyers
Recognised Russian MICE Specialists
Members of Moscow Business Travel Agents Association
Leading Business Travel Companies
Specialised Travel agents offering business travel
Dynamic growth companies looking for team-building activities
State and municipal representatives
Representatives of leading Russian businesses
Press & Media
Welcome to Moscow MICE Forum!